2019 Mini-Reunion
The Annual Irvin Alumni Ruidoso Rendezvous.....
An Established & Growing Tradition!
October 14-17, 2019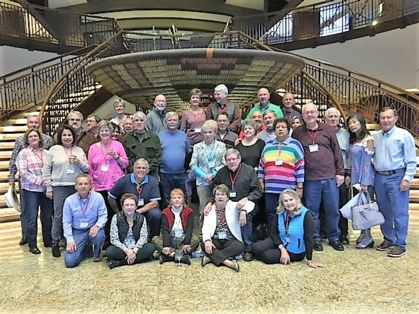 For details click on this link.
Click on the return arrow of your browser to return to this page.
We hope everyone is in good health and doing great. Just a reminder we are about four months out from the annual 2019 Irvin Alumni Rendezvous at the Inn of the Mountain Gods in Ruidoso 14-17 October 2019. Below are the Alumni who have signed up so far to attend (if you have already contacted us and your name is not listed below, please let us know – sorry). If you would like to attend or think you might be able to attend, please email one of us to let us know. Please click on the link above to go to the Rendezvous information packet. Please share the information with anyone you know who might be interested in attending. A fun time is guaranteed!!
Take care,
Pam Cotten - pgcotten@gmail.com
Bryson McCool –brymccool@gmail.com
If you have any stories you want to share with the class, select Member Chatter from the top navigation list and select 'Post Response' to add your comments.
This website is a great place to gather and to share information with our classmates. Please look around, participate, and invite other classmates to join in the fun.
The volunteers for the 50th Year Reunion Planning Committee are:
John Schmidt, Glenn Gonzalez, Sherry Shutt (Reed), Marty Vass (Townsend), Vikki Ivy (McCoy), Cherry Miller (Smith), Brad Smith, Nancy Dralle (Elson), Ruben Rosario, Tom Seitz, Toni Ricciardelli (Sim), Sandy Avritt (Messer), Teri Stanley (Wiley), Jerry Barrett, Jim Holland, Sandie Mask (Holland), Janett Sarracino